I've been severely missing my grandparents as of late. They've been fluttering in and out of my reveries as if they had never left. The dreams feel like real life and I'm crushed to wake up and find out that they're gone for good, for good goods. I've never been great at dealing with death, or with anything really. It may appear as callous at first, but it may just be a delayed reaction. 14 years and 4 years after my grandmother's demise of lung cancer and my grandfather's ticker wearing out, respectively, I think I'm finally in mourning. Or just feeling nostalgic. I don't know. I can't tell.
When I harp on the little things, my mom says, "Oh god, you are just like your grandmother." When I smile she says, "You got your dimples from your grandpa." Remnants of the people who helped raise me linger in many forms. They slept in separate twin beds in a smoke filled room down the hall from me growing up, but now that hallway just keeps longer and longer like salt water taffy or a twisted Vincent Price number, hazy, at best.


My grandmother suffered from severe depression. She could barely function. After I was born, she had some sort of awakening a la DiNero. They called me, "Dr." because my presence seemed to cure her. Me=Robin Williams. She was a funny, staunch, brilliant woman. I wish I could remember her better. She spoilt me with love and affection. This anecdote is going to sound really fucking weird (yet seemed totally normal at the time), but I'll go for it anyway, because it really happened. I'd bust in from playing outside in the snow and with icicles for hands and feet. She would open her shirt and lift up her toasty flapjack milkfed-four-kids teets and drape them over my frozen little feets. Now if that ain't altruistic, then I don't know what is.

Grandpa was kind of a pistol, Lothario extraordinaire. He had a girlfriend up until his late 80s. My mom once recanted that she walked in on my grandpa humping their nanny in the pantry. Maybe that's why grandma was so depressed. It's all beginning to make sense now. During the communist takeover, he chartered the last commercial flight out of China and purchased tickets for all of his friends and family. Generous to the max. As the ultimate alpha male, all the other males in my family (father, uncles, brother) hated him. He treated them with a vicious backhand, but doted unfairly and superfluously on the females. My mom and I were the lucky beneficiaries. Grandpa served as my primary father figure when my dad moved back to Taiwan for work when I was 11. In hindsight, I'm thankful that the patriarchal void was filled.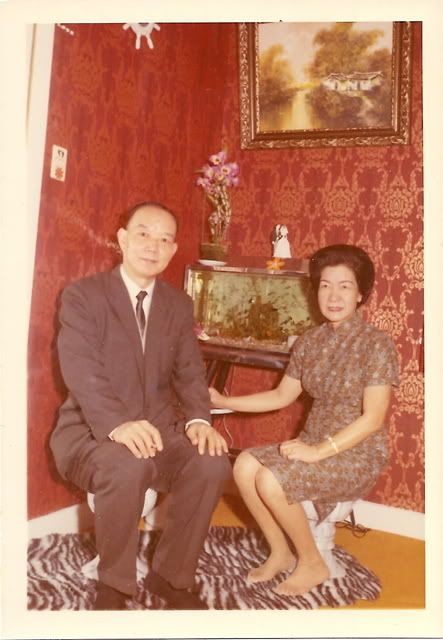 Frank & Chu-Mei Liang